David McLean
Associate Professor
PhD, University of St Andrews, Scotland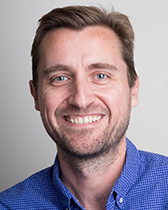 Specializations
Regions(s): Developmental Neuroscience; Brain and Behavior; Cellular and Molecular Neuroscience
Research interest(s): Development and plasticity of motor networks
Research Summary
Development and plasticity of motor networks
Repetitive movements, like swimming or breathing, are generated by networks of rhythmically active neurons. We are interested in how rhythmic networks develop and produce movements of different speeds and intensities. To do this, we study the spinal networks controlling innate motor behaviors in developing zebrafish. Zebrafish provide a unique opportunity to combine imaging, electrophysiological and molecular approaches to examine the neural control of behavior in the living organism. By revealing common principles of organization, we hope to provide insights into disorders that affect our capacity to move, like Parkinson's disease, epilepsy or spinal injury.
Selected Publications
Bagnall, M.W. & McLean, D.L. (2014). Modular organization of axial microcircuits in zebrafish. Science, 343(6167), 197-200.
Menelaou, E., VanDunk, C. & McLean, D.L. (2014). Differences in the morphology of spinal V2a neurons reflect their recruitment order during swimming in larval zebrafish. J Comp Neurol, 522(6), 1232-1248.
McLean D.L. (2013). Optogenetics: illuminating sources of locomotor drive. Curr Biol, 23(10), R441-443.
Patterson, B.W., Abraham, A.O., MacIver, M.A. & McLean, D.L. (2013). Visually guided gradation of prey capture movements in larval zebrafish. J Exp Biol, 216(16), 3071-3083.
Menelaou, E. & McLean, D.L. (2012). A gradient in endogenous rhythmicity and oscillatory drive matches recruitment order in an axial motor pool. J Neurosci, 32(32), 10925-10939.
McLean, D.L. & Fetcho, J.R. (2009). Spinal interneurons differentiate sequentially from those driving the fastest swimming movements in larval zebrafish to those driving the slowest ones. J Neurosci, 29(43), 13566-13577.
McLean, D.L., Masino, M.A., Koh, I.Y.Y., Lindquist, W.B. & Fetcho, J.R. (2008). Continuous shifts in the active set of spinal interneurons during changes in locomotor speed. Nat Neurosci, 11(12), 1419-1429.
McLean, D.L., Fan, J., Higashijima, S., Hale, M.E. & Fetcho, J.R. (2007). A topographic map of recruitment in spinal cord. Nature, 446(7131), 71-75.
Selected Honors
2011  Sloan Research Fellowship
2010  Searle Scholar Award
2009  Klingenstein Fellowship in the Neurosciences
2009  Eppendorf and Science Prize for Neurobiology, Finalist
2005  Human Frontier Science Program Short Term Fellowship
2003  Ruth L. Kirschstein Individual National Research Service Award
Back to top