Master of Science in Neurobiology Program Overview
Program Overview
The Master's Program in Neurobiology features independent, hands-on research training combined with focused classroom instruction to prepare students for careers in medicine, industry, academic research, and/or teaching. Students can earn this degree in one year of intensive study.
The program provides an unparalleled opportunity to learn and collaborate with some of the foremost scholars in the field of Neurobiology. Graduates of the program have gone on to MD or PhD programs at top institutions around the country or choose to directly enter careers in academic or industrial research.
Please feel free to contact any of the program personnel with any questions. Inquiries regarding admissions (receipt of transcripts, letters of recommendation, etc.) should be directed to the Neurobiology office.
---
PROGRAM INFORMATION
Entrance Requirements
COURSEWORK
Applicants must hold a four-year undergraduate degree.

Applicants may be considered for admission before finishing their undergraduate degree, but they must complete this degree before enrolling at Northwestern.
An undergraduate degree in does not necessarily need to be in a 'hard  science' field such as Neuroscience, Genetics, Biology, Chemistry, etc., but all applicants will need to have completed the coursework below.

Strong performance (B+ or greater) in the following coursework is expected:

One year of Chemistry
One year of Biology
One semester of Organic Chemistry
One semester of Physics
One semester of Calculus or advanced math
RESEARCH
The admissions committee looks for substantial laboratory research experience of at least nine months. Applicants who do not have significant prior research experience have found it difficult to complete the program in one year.
We ask for students to include a description of their research experiences in their Statement of Purpose.
TEST SCORES
Standardized test scores, such as the GRE and MCAT, are not required but recommended.
For International students, the TOEFL or IELTS examination is required.
Minimum scores for admission to the MS Program in Neurobiology:
TOEFLS - 100 on the internet version, 600 on the paper version, or 250 on the computer version
IELTS – 7.0 or higher
The exams must not be taken more than two years before the intended quarter of entry. For example, if you are applying for Fall 2019 entry, test scores must be no older than September 2017.
All International students whose native language is not English must take the Versant English test once they arrive on campus.
The program will waive the TOEFL/IELTS requirements for students that receive bachelor degrees from certified institutions where the primary language is English. Most accredited American universities will meet this requirement.
Program Statistics
Highlights:
Over the past five years, 31% of applicants were admitted.
Over the past five years, 92% of applicants completed their degree.
We have a good record of placement in medical school, academia, and industry.
Average GRE and GPA scores over 5 years
GRE Verbal: 74th percentile
GRE Quantitative: 86th percentile
GPA: 3.62
Please note that the above represents the average scores of admitted applicants. The program does not have GPA/GRE/MCAT minimums, but applicant scores are determined holistically against their application's strength and against the current applicant pool.
Timeline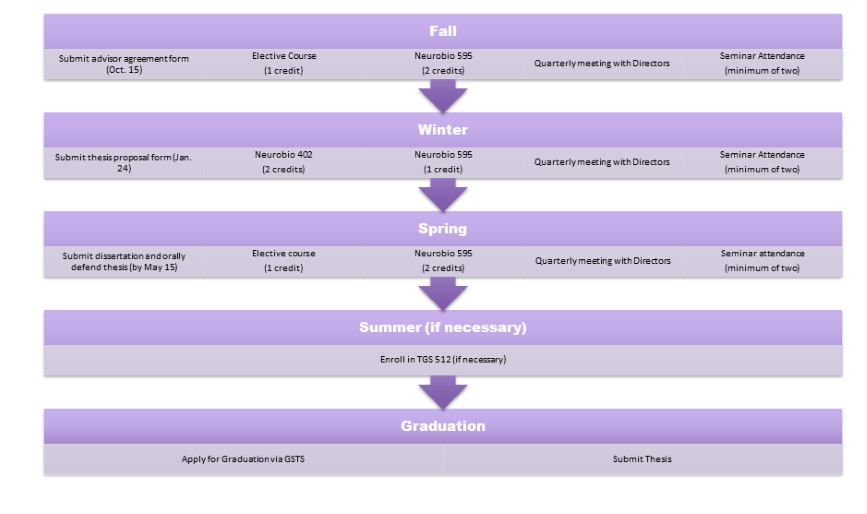 Tuition, Housing, & Financial Aid
TUITION
Information regarding Graduate tuition and fees can be found at TGS Tuition.
STUDENT HOUSING
On-Campus Graduate Student Housing
Engelhart Hall Apartments are open to all graduate students, their partners, and families. Recently renovated apartment units feature redesigned floor space and new kitchens with all new appliances. Staff are on-site.
For more information, visit the Graduate Housing website.
Additional Off-Campus Options
The Division of Student Affairs Off-Campus Housing Guide contains information and resources available to students living off-campus, from apartment hunting to being a good neighbor within the Chicago/Evanston and Northwestern communities.
Resources for finding an apartment in Chicago:
FINANCIAL AID
The master's program does not provide financial aid in the form of academic scholarships, assistantships, TA opportunities, or stipends. Financial aid is offered through student loans and/or external funding. The Graduate School's financial aid website can assist with any questions regarding aid.
Choosing a Lab Advisor
An advisor agreement form must be filled out and returned to the Neurobiology office by mid-October.
We recommend newly enrolled students work with the Program Assistant to determine which advisors would be best suited for them based on their research interests and to facilitate potential mentee/mentor connections.
For some additional advice on choosing an advisor, check out the readings below:
We encourage you to look through our list of advisors and their research interests.  Below lists advisors from recent years:
| | | |
| --- | --- | --- |
| Advisor | Department | Research Interests |
| Allada, Ravi | Neurobiology | Circadian rhythms and sleep; neuro-degeneration |
| Awatramani, Raj | Neurology | Mechanisms underlying dopamine neuron development, function, diversity, and degeneration; Mechanisms regulating peripheral nerve myelination in development and disease states. |
| Bozza, Thomas | Neurobiology | Molecular genetics and physiology of olfaction |
| Disterhoft, John F | Physiology | Learning, Biophysics, Neurophysiology, Eyeblink Conditioning, Aging, Hippocampus, Alzheimer's Disease, Potassium Currents, Calcium, fMRI |
| Dombeck, Daniel | Neurobiology | Neuronal circuits underlying mammalian navigation |
| Gallio, Marco | Neurobiology | Temperature sensing processes in the brain |
| Hartmann, Mitra | Mechanical Engineering | Sensorimotor integration; robots as tools for studying neuroscience; sensory acquisition; neuroethology  |
| Klein, William | Neurobiology | Alzheimer's disease; memory-linked synapse structure and signal transduction |
| Kozorovitskiy, Yevgenia | Neurobiology | Synaptic and circuit development in the basal ganglia |
| Larson, Charles R | Communication Sciences & Disorders | Speech physiology |
| Lee, Hojoon | Neurobiology | The neurobiology of taste |
| McLean, David | Neurobiology | Development and plasticity of motor networks |
| Meade, Thomas | Neurobiology | Molecular imaging; Electron transfer mechanisms; Metal complexes as transcription factor inhibitors |
| Miri, Andrew | Neurobiology | Motor system function; Behavior quantification |
| Nusslock, Robin | Psychology | Bipolar disorder & unipolar depression |
| Paller, Ken | Psychology | Human memory, awareness, & memory disorders |
| Raij, Tommi | Neurobiology/Rehabilitation Institute of Chicago | Non-invasive human brain imaging; MRI/fMRI/tractography/MEG/EEG/TMS |
| Raman, Indira | Neurobiology | Ion channel biophysics; Neuronal excitability; Synaptic Transmission; Cerebellar physiology |
| Reber, Paul | Psychology | How the brain expresses memory and where memory occurs in the brain; Nonconscious perceptual learning of artificial categories; Conscious and nonconscious memory. |
| Sanchez, Jason | Communication Sciences & Disorders | Glutamate clearance, synaptic transmission and potassium channel function |
| Schmidt, Tiffany | Neurobiology | Visual neuroscience; neurophysiology; neuroanatomy; mouse genetics, behavior  |
| Schwartz, Gregory | Ophthalmology | Circuit mechanisms underlying sensory computation |
| Segraves, Mark | Neurobiology | Systems and cognitive neuroscience |
| Swanson, Geoffrey | Pharmacology | Understanding physiological processes mediated by glutamate receptors |
| Turek, Fred | Neurobiology | Sleep and circadian rhythms, and seasonal reproductive cycles |
| Voss, Joel | Medical Social Sciences, Neurology, Psychiatry & Behavioral Sciences | Uses human neuroscience methods (fMRI, EEG, TMS, eye tracking) to investigate mechanisms of learning and memory and their impairment in neurologic and neuropsychiatric disorders |
| Woolley, Catherine | Neurobiology | Steroid hormones in neural plasticity |
| Wright, Beverly A | Communication Sciences & Disorders | Auditory learning |
| Yang, Yue | Neurobiology | Developmental and Activity-Dependent Remodeling of Chromatin Architecture; Epigenetic Regulation of Neural Circuits; Cerebellar Circuits in Motor Learning |
More information on choosing an advisor can be found in the Student Handbook.
Program Staff
Back to top