NEURON
NEURON: Northwestern Education and Undergraduate Research on Neuroscience
Currently we are not accepting applications for NEURON.
NEURON is a competitive research and professional skills development program for students with a strong commitment to research in Neuroscience.  The goals of NEURON are to increase opportunities for Northwestern undergraduate students to participate meaningfully in research, enhance their learning from research, promote interdisciplinary interactions, and integrate undergraduates more fully within the broader Neuroscience community at Northwestern.
Because a key component of NEURON is mentorship, the student, the in lab research mentor  (often a post-doctoral researcher or graduate student member of the lab),and the faculty research adviser, apply together. A separate role is played by NEURON partners. Partners are grad students or post-docs who are not specifically paired with one student, instead serving as "big brother/big sister" to all NEURON students. Partners apply separately. Student-mentor pairs should apply to NEURON only after at least one quarter of working together in the lab. In addition, undergraduate NEURON candidates must be declared Neuroscience majors who have completed one year of study at Northwestern, hold sophomore, junior, or senior status, and have a minimum GPA of 3.3 both overall and in all science courses excluding 398/399.
Applications are not being accepted. Review of applications  will begin immediately. Students selected for NEURON may be eligible to attend the Society for Neuroscience meeting, so early application is strongly encouraged.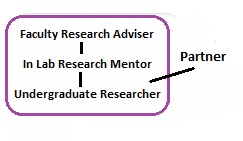 NEURON provides: 
$500/quarter to the host laboratory to support the student's research project
$500/year to the in lab research mentor (funds are for career-related expenses)
$500/year to Neuroscience graduate students or postdoc "Partners" (funds are for career-related expenses)
Monthly group meetings to discuss Neuroscience research and career-related topics, review student research findings, and interact informally
The opportunity for NEURON undergraduates to apply for travel awards to attend scientific meetings
Free membership for NEURON students in the Society for Neuroscience, the world's largest organization of scientists and physicians devoted to understanding the brain and nervous system.  Membership in SfN provides access to a wealth of online information about the latest Neuroscience breakthroughs, research advocacy, professional development, career advice, and more.
Students are encouraged to register for NEUROSCI 399-0/Independent Study. It is expected that most NEURON students will write a senior thesis based on their research, enrolling instead in NEUROSCI 398-0/Senior Thesis Seminar in the Winter quarter of their final year.  Activities in the program are aimed to help students compose a high quality thesis.

Once a member of NEURON, students must meet certain minimum requirements to remain in the program. NEURON applications are resubmitted annually.
Back to top